RAFINO/RAFINCO Reunion 2014
RAFINO/RAFINCO Reunion 2014 to be Held in Baton Rouge, LA
"Laissez les bons temps rouler!"
RAFINCO, in coordination with RAFINO, will host the 2014 RAFINO/RAFINCO reunion in Baton Rouge, La. Dates for the reunion are Tuesday, 14 Oct through Sunday, 19 October 2014 (the week following Columbus day). Mark your calendars now for "les bon temps", just -1441 days away.
Registraion fee (covering registration, Banquet, welcome reception, and Memorial/TAPs ceremony) is $175.00 per registered attendee (member and/or spouse).
Reunion Hotel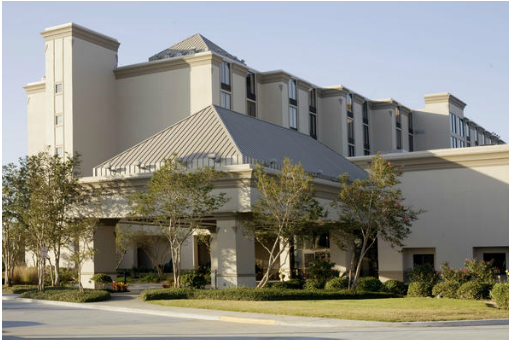 Co-hosts Bill Tolbert and Harry Miller have contracted with the Holiday Inn South, which, they advise, is a "military reunion-friendly" hotel. They have agreed a room rate of $89.00 per night (which incluides a breakfast) and the hotel will provide free transportation (upon suitable advance reservation) to and from Baton Rouge's airport. In addition, the hotel provides on-site parking and high-speed, wireless internet at no extra charge. They will also provide storage for excess luggage, etc. for those who are going on the cruise and returning to Baton Rouge. For those who may have overcome the ingrained finance officer's aversion to (shudder) gambling, the Hollywood Casino is 10 miles from the hotel (with other casinos in the vicinity).

You must register separately with the hotel for your room. Please do so early, as the reunion coincides with an LSU home game and once we have used up our block of rooms, there wilklk very likely be "no more room at the inn".
Holiday Inn South, Baton Rouge
9940 Airline
Baton Rouge, La 70816
(mention "Retired Army Finance"
Reservations: 1-888-HOLIDAY
Front Desk: 1-225-924-7021
Web: http://www.holidayinn.com/hotels/us/en/baton-rouge/btrso/hoteldetail

Hotel Amenities:
Online Registration
Fitness facilities (bottled water and fresh towels provided)
Indoor Heated Pool
11 rooms specially equipped for the physically challenged
Free internet
Extensive Business services
free parking (250 spaces)
On-site guest laundry facilities (washer/dryer)
McPaper
Storage of excess baggage for cruisers
Tentative agenda will be:
Tuesday 14 Oct

0900-1700 Early registration
1300-2300 Hospitality Room is Open (closed 1700-2100)
1800-2100 - A Cracker Barrel Evening - Dinner (across from the hotel - 2-way bussing starts at 1745)


Wednesday 15 Oct

0800-1000 - Complimentary Breakfast
0900-1700 - Registration
1800-2100 - Welcome Reception (informal attire - "Sedona I" Ballroom)
1200-2300 Hospitality Room is Open (closed 1700-2100)

Thursday 16 Oct

0800-1000 - Complimentary Breakfast
0845-1845 - New Orleans Excursion via bus (WWII Museum, lunch, bus tour of New Orleans). Busses load at 0830 and return to hotel at 1845.

1900-2300 Hospitality Room is Open

Friday 17 Oct

0800-1000 - Complimentary Breakfast
0800-1600 - Golf Tournament - lunch & awards at golf course.
0845-1330 - A Plantation Tour of the Old Ante Bellum plantations along the Mississippi Busses load at 0830.

1445-1700 - A Memorial Service for our Deceased Finance Family members at the USS Kidd Busses load at 1430.

1800-2100 - Another Dinner Excursion to Boutin's (Cajun Food). Busses load at 1730.

1700-2300 Hospitality Room is Open

Saturday 18 Oct

0800-1000 - Complimentary Breakfast
0900-1000 - RAFINO Business Meeting ("Mesa I")
0900-1000 - RAFINCO Business Meeting ("Mesa II")
1000-1200 - Joint RAFINO/RAFINCO Business Meeting ("Mesa I")
1300-1600 - Bridge Tournament (Ballroom "Sedona I & II")
1630-1800 - Formal Photos & Cocktails
1800-2100 - Reunion Banquet. Business Casual (at least a sport coat) attire. Dinner call at 1800
1200-2300 Hospitality Room is Open (closed 1600-2100)

Sunday 19 Oct. For details, see the Cruise Page

0800-1000 - Complimentary Breakfast
1230 - Busses Depart for New Orleans (busses load at 1200) and Caribbean Cruise aboard the Carnival "Dream"
(you can pre-register for complimentary POV parking for cruisers who bus to/from New Orleans)

Tentative Pricing (per person) - Embarkation from 1300-1500 10/19/2013:

Interior cabins from $454 cruise + $80 taxes and fees
Ocean View cabins from $579 + $80 taxes and fees
Balcony cabins from $714 + $80 taxes and fees
Deposit of $250 per person required to lock in prices.
Full payment due no later than 8/1/2014.
Trip Insurance Is Available


Here is the Itinerary:


| Day | Location | Via | Port of Call Info |
| --- | --- | --- | --- |
| Sunday, October 19, 2014 | Depart from New Orleans, La | Dock | |
| Monday, October 20, 2014 | Fun Day At Sea | Fun At Sea | |
| Tuesday, October 21, 2014 | Fun Day At Sea | Fun At Sea | |
| Wednesday, October 22, 2014 | Mahogany Bay, Isla Roatan | Dock | Roatan |
| Thursday, October 23, 2014 | Belize | Tender | Belize General Info |
| Friday, October 24, 2014 | Cozumel, Mexico | Dock | See Fodor's Cozumel Travel Notes |
| Saturday, October 25, 2014 | Fun Day At Sea | Fun At Sea | |
| Sunday, October 26, 2014 | Arrive at New Orleans, La | Dock | |
View History of RAFINO Reunions